Vineyard location: Valpolicella Classica zone (hilly band to the north of Verona)
Soil: red-brown soil on detrital, limestone-marly and basaltic sediments
Vine yield per hectare: 90 ql./ha
Grape varieties: Corvina – Corvinone – Rondinella
Grape harvest: hand selection of the best grape bunches coming from hilly vineyards.
Vinification techniques: traditional skin fermentation followed by 10-15 days maceration. After fermentation the unpressed Amarone skins are added to Valpolicella wine, according to the traditional Valpolicella "ripasso" technique
Ageing: in oak barrels for 10-12 months, depending on the vintage, followed by a short stay in stainless steel vats
Wine analysis: Alcohol content 14% vol.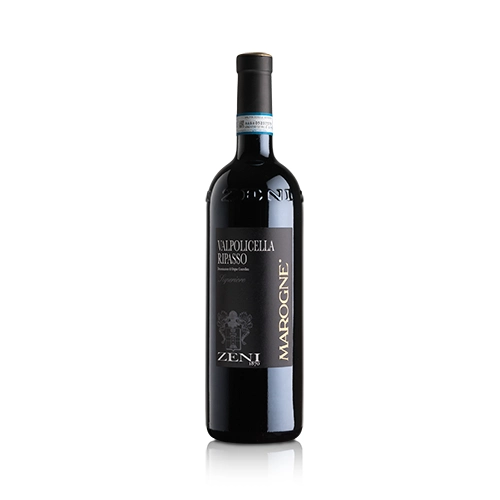 Tasting Notes:
Colour: deep ruby red
Bouquet: vinous, full-bodied, with hints of black cherry and well-ripened fruit
Palate: rounded, velvety, full-bodied and lingering
Serving suggestions: wine to be best enjoyed within 4 years from bottling, served at a temperature of 17-19°C